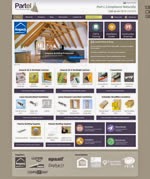 Solas Web Design recently completed a new website for Partel Passive Building Supplies
Partel offer passive building supplies and much more. They are located in Galway and have a background in Engineering, Architecture and house building. They have launched a range of natural and ecological insulation, ventilation, and airtightness systems to the Irish market, aimed specifically at the low energy building sector.
The company was founded by Hugh Whiriskey in 2011.
Visit: www.partel.ie