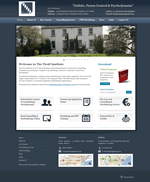 Solas Web Design recently completed a new website for The Tivoli Institute
The Tivoli Institute is involved in education and training primarily in the area of counselling, humanistic psychotherapy, integrative psychotherapy, personal, community and cultural development.
The Institute's philosophy is holistic, person centred and psychodynamic, inspired by the work of Carl Rogers, Martin Buber, D.W. Winnicott, Carl Jung and others. The Institute provides consultancy services to industry, Government agencies and educational organisations.
Visit: www.tivoliinstitute.com